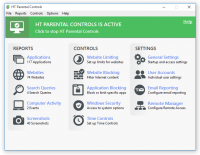 Being a digital parent is more easily with HT Parental Controls. Protect your child online and offline.
HT Parental Controls helps you protect your child from all harmful and inappropriate content, set your rules for computer use, and block/limit annoying activities.
Get reports of computer activities, block access to websites and apps, or limit specific sites in a friendly way. The program contains many superior features that make the software very useful for parents.
HT Parental Controls helps concerned parents shield children. The app allows you to block or limit annoying activities to make your child's computer experience healthy and happy.
Complete the simple installation and protect your family today!
• Block inappropriate content
• Block social media sites
• Block specific websites
• Allow only white-listed websites
• Block games & apps
• View reports with all computer activities

Get this Offer in Shareware On Sale website. Original Source link
Note: This partial content was extracted from the Shareware On Sale site via the public RSS Feed.
---
OFFER EXPIRE IN:
-94
Days
-8
Hours
-17
Minutes
-56
Seconds